Cashless POS
Tried and tested by over a million attendees, the cashless POS system is proven to increase customer spending, shorten queues and reduce overheads. By loading their cash or credit onto RFID enabled wristbands, customers could be paying for drinks, food and merchandise at your event with a simple tap.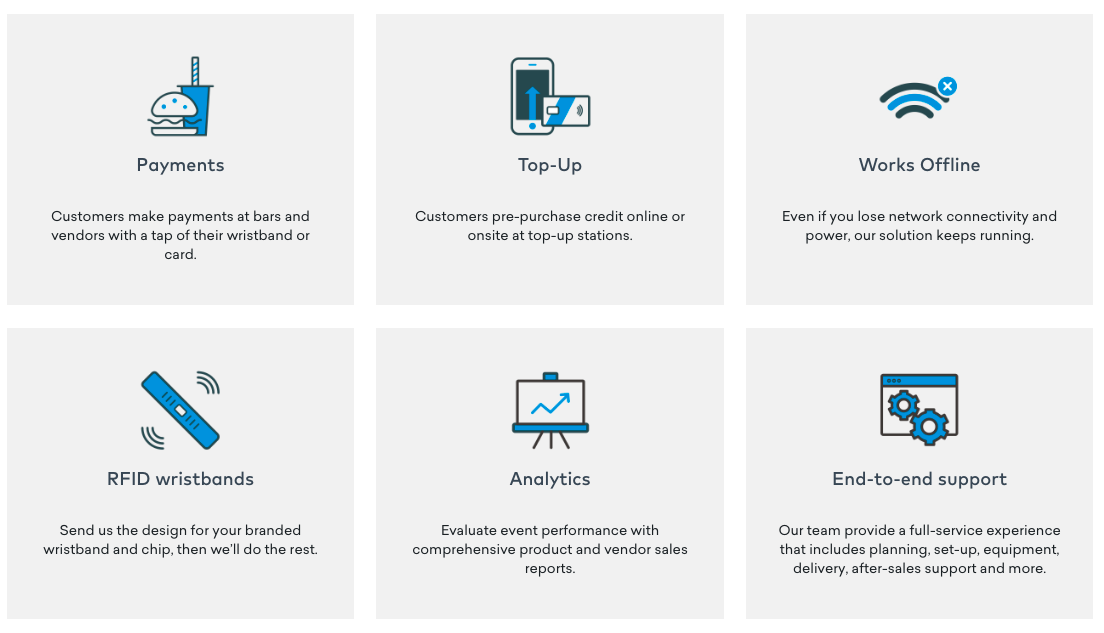 Industry reports indicate per cap spending increases of 18-25% when using an electronic payment credential.
By eliminating cash or "out of apron" transactions, shrinkage and other cash drawer discrepancies are greatly reduced.
Our Intelligent wristband (Intelliband) increases the accessibility a guest has to his/her wallet, which enables convenient spending and encourages impulse purchases throughout the facility. Guests also have the ability to set daily limits for children to encourage responsible spending. And since the intelligent wristband is always on the wrist, cash is never lost.
Transactions are faster than cash, which reduces the length of time guests spend waiting to make a purchase, instead of enjoying other amenities.
The convenience of Intelliband provides easy spending opportunities at multiple locations including food and beverage outlets, gift shops, vending machines, and business service centers.
Security is also enhanced. Unlike debit cards, Intelliband is a non transferable, secure credential that prevents unauthorized access to a spending account.
Need Help?
Please Feel Free To Contact Us. We Will Get Back To You Within 1-2 Business Days.
info@mstech-solutions.com
(876) 754-9752